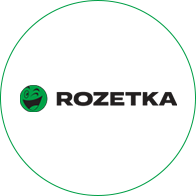 Time of the cashback payout
Average cashback approval time: 60 days
Here you can find detailed list of rates in terms of categories. 

For some purchases cashback will not be accrued. Please check exceptions by following that link before making a purchase.

In order to get cashback from Rozetka please follow the rules below:

1) Login to your account on Hello CashbackTM site.

2) Choose Rozetka in our catalogue.

3) Click "Go to the site" button and proceed with your order on Rozetka site.

4) Your order will be visible in "My cashbacks" section within 5 working days from the purchase date.

5) Cashback will be accrued to your personal account on Hello Cashback within 45 days from the purchase date.


Bringing your attention! The payment currency of some partners may differ from the balance currency, and therefore the amount of your cashback, as well as the balance, may change when the status of the cashback changes.

More information about general rules of placing an order with a cashback you can find on "Cashback Rules" page on our site.